Monorailex 2021 Milan, Italy Registration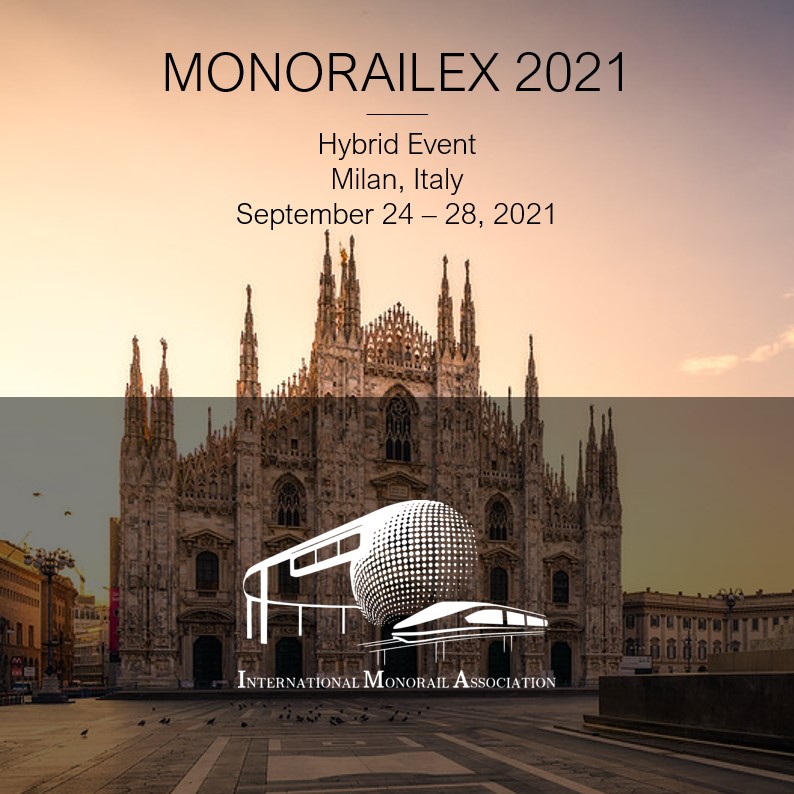 The International Monorail Association invites you to join the excitement and participate in its 13th annual conference, Monorailex 2021, scheduled to be held in Milan, Italy on September 24 through 28, 2021. This hybrid event takes place ahead of the Expo Ferroviaria 2021, held at the fair Milano Rho. The format for Monorailex 2021 will include presentation of scholarly papers, development of a monorail technical specification, technical tours and opportunities to network with other professionals in the field.
Sponsorship Oppertunities are also available.
Download the full conference brochure here.
Schedule of Events*
*subject to change, please visit www.monorailex2021.org for continuously updated schedule of events and additional information.
 
Conference Days

Friday, September 24, 2021
Location: Hotel 21WOL Milano Centro + ZOOM
13:00 Board Meeting (all Executive Board members)
15:00 General Members Meeting (all IMA members)
Location: Bar Basso
18:00 Welcome Cocktail Reception sponsored by HITACHI
(all registered Monorailex conference participants)
Saturday, September 25, 2021
Location: Hotel 21WOL Milano Centro + ZOOM
08:00 Registration
09:00 Introduction
09:10 Keynote Speech
09:30 Presentations (1-6)
12:20 Lunch
13:30 Specification Groups, part one
15:30 Prersentation 7
16:25 Specification Groups, part two
18:15 Closing
19:30 Formal Dinner sponsored
Sunday, September 26, 2021
Location: Hotel 21WOL Milano Centro + ZOOM
09:00 Opening, Presentations (8-14)
12:30 Lunch
14:05 Presentations (15-17)
15:20 Closing
16:00 Sightseeing bus tour incl. transfer to vineyards region
18:00 Welcome Reception in Casteggio
19:30 Closing Dinner sponsored
Technical Visits Days

Monday, September 27, 2021
Milan, Bologna
08:00 Start from Hotel
08:45 Visit Politecnico di Milano (Mechanical Department)
13:00 Train transfer Milan to Bologna
14:30 Visit of Marconi Express
18:30 Train transfer Bologna to Milan Central Station
20:00 Arrival in Milan
Tuesday, September 28, 2021
Milan
09:00 Bus transfer to Hitachi Site Milan
09:30 Visit Hitachi Site Milan and fully automated Metro
Line 4 partly under construction
13:30 Quick Lunch and transfer to Expo Ferroviaria
15:00 Visit Expo Ferroviaria
Venue Milan
Conference Hotel
Hotel 21WOL Milano Centro
Via Enrico Nöe, 24, 20133 Milano MI, Italy
Booking Opportunities
Room rates: Seasonal fee (Please, contact hotel directly) 
Additional: € 4.00 city tax per day
Booking contact: infomicentro@21wol.it
Booking code: Monorail Association
Deadline is August 5th, 2021
Payment Policy: Hotel requires a credit card as guarantee
for each reservation.
All cancellations of conference passes are subject to a € 50.00 processing fee.
Refund requests must be submitted by email to admin@monorailex.org and are not accepted after 30 August 2021.
Please note that we have no influence on possible travel restrictions due to the Corona pandemic.